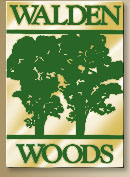 Woodmoor Council Page
This page shows you information specific to the Woodmoor Council. There are 54 lot units in Woodmoor. The council has two directors on the Conservancy Board.

Attached below is a file which records the color of houses, trim, front doors, and garages in Woodmoor council. These files are the baseline for AAIs involving painting.

One of the most important standards that applies to Woodmoor is the landscaping rule that governs upkeep of the lawn, shrubs, etc. It is attached below.

Woodmoor Council is unique in that the units are "lot units." Woodmoor does not have any common elements. The Rules provide for certain situations that may apply to other councils, but may not be appropriate to Woodmoor. See section 30 of the Rules document or the download below.

Remember that you must submit a AAI for Additions, Alterations, or Improvements as specified by the Declaration and the Rules before any work begins or fines may be imposed. Woodmoor does not have to submit an AAI in certain cases. Again, see the download below for section 30.