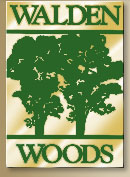 | | | |
| --- | --- | --- |
| | | |

Walden Woods is a planned unit development of 336 homes in Windsor, Connecticut.

This website is designed to serve as a file cabinet of information for residents and owners of units in Walden Woods. The banner to the left shows the major drawers of the file cabinet. The website is maintained by the Communications Committee which is a committee of the Conservancy Board.

Here is a Quick Click to our Declaration, By-Laws, and Rules. The May 27, 2015 edition of the Rules Document is now posted. Revisions made since May 27, 2015 are included. The recent boundaries amendment is included with the Declaration.

Owners are reminded that property issues which need attention are to be directed to Elite Property Management at 860 430-6640. The property manager is Chris Kohnle. Elite Property Management After Hours number is 860 676-3392. This is for emergency service only. A fee may be charged for calls that are not an emergency. That number will reach an answering service that will call the Elite property manager who is on call.

Renters should contact their landlord for remedy of property issues. The owner should then contact Elite if the issue involves the common element.

All unit owners are responsible for conveying information to a renter if the unit is being leased. Renters: if you are not receiving information about the pool, rule changes, etc., contact your lessor. If you are renting a unit from the original developer, the Connecticut Windsor Development Sales Center can be reached at (860) 688-3200.

Residents are reminded that trash and recycle bins are to be stored inside in the Duplex, Town Home, and Village Councils.

Residents also have the opportunity to discuss specific issues at the Council Meetings or the Conservancy Board Meetings. See below.

Issues regarding performance of the property management company should be discussed with your council director(s) or the Conservancy Board of Directors. Meetings of your council directors and the Conservancy Board are shown on the calendar.

Minutes of the various board meetings (if your council meets or takes minutes) can be found by clicking here.

Residents may join a number of committees which are formed to welcome new residents, enable communication within the community, and provide recreation and social activities.

Our standards committee serves at the appointment of the board of directors to oversee external property changes and standards which protect the value of the homes in our community. There is a process for Additions, Alterations, and Improvements of units. Remember that you must submit a AAI for Additions, Alterations, or Improvements as specified by the Declaration and the Rules before any work begins or fines may be imposed. Other actions may be taken, such as requiring that work be returned to its original state.

Once Covid restrictions are lifted by the Conservancy Board, residents may rent our Meeting House for a family celebration or social event.